Urea Reagent 5 M and 8M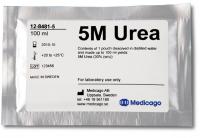 Features
Formulated from analytical grade reagent
Choice of two concentrations
Reproducibility from lot to lot
Exactly pre-weighed powder in pouches
Dissolve and use in minutes
Product description
Urea (carbamide) is an organic compound with the chemical formula (NH2)2CO extensively used in proteomics and molecular biology. Medicago's Urea reagent is supplied as pre-weighed powder in sealed pouches, giving 100 ml of 5 M (30% w/v) or
8 M urea.
Applications
• Denaturing proteins
• Protein refolding
• 2D-PAGE
• Sequencing methods
Directions for use
Dissolve the entire content of one pouch in deionized water using a magnetic stirrer and add deionized water to bring the total volume up to 100 ml. Once fully dissolved, the solution is ready to use.
Shipping and storage
The urea reagent is shipped at room temperature. Store the pouches in a dry place at room temperature. Shelf life is three years.
Specifications
Chemicals: Analytical grade
Format: Exactly pre-weighed powder
Volume: 100 ml
Shelf life: Three years after production date