HEPES Buffered Saline (HBS) pH 7,4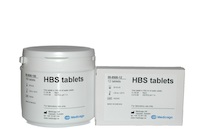 Features
• Dissolve-and-go for greater convenience
• Exactly pre-weighed tablets in bottles or blister packs
• Guaranteed reproducibility
• Formulated from analytical grade chemicals
Applications
• Cell culture
• Enzymology
• Chromatography
• General Biochemistry
Description
HEPES is a routinely used buffer in cell culture, enzymology, chromatography and in general biochemistry.
Preparation
Dissolve one tablet in the specified quantity of deionized water. This yields a solution containing 0.01 M HEPES pH 7.4 and 0.15 M Sodium chloride.
Storage and stability
Tablets stable for 3 years at room temperature.