Sodium Chloride Reagent (NaCl)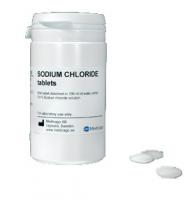 Features
Prepared from pharmaceutical grade reagents
Choice of tablets or powder mix in pouches
Isotonic
Choice of three concentrations
Eliminates variables in laboratory work flow
Product description
Sodium chloride is widely used in many laboratory routines. Medicago's Sodium Chloride reagent is exactly pre-weighed as tablets or as a powder. For greater convenience a blister pack with 10 tablets is also avaliable. The reagent is 99.99% pure and is supplied in three concentrations. Dissolving one tablet or the contents of one pouch yields a solution containing:
1. 0.9 % sodium chloride (isotonic)
2. 3 M sodium chloride (hypertonic)
3. 5 M sodium chloride (hypertonic)
Directions for use
Empty one pouch or deposit one tablet of the NaCl reagent in a laboratory flask or beaker placed on a magnetic stirrer. Add deionized water and stir the solution for a few minutes. Adjust the volume up to 100 ml or 1000 ml respectively , stir until full dissolution and the solution is ready to use.
Applications
General laboratory solution.
Physiological saline (0.9%) solution routinely used in laboratories when an isotonic solution is needed.
Shipping and storage
NaCl reagent is shipped at room temperature. Store the tablets and pouches in a dry place at room temperature. Shelf life is three years after production date.
Specifications
Chemicals: Pharmaceutical grade
Format: Exactly pre-weighed tablets and powder
Concentration: 1. 0.9% NaCl
2. 3 M NaCl
3. 5 M NaCl
Volume: 100 ml and 1000 ml
For details on 0.1 mol NaCl tablets, please look here.