pH meter calibration kit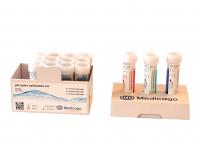 Features
Ready-to-use pH buffer solutions.
User friendly format with tube holder included.
Pre-filled test tubes for single use.
No preparation needed.
Product description
The pH meter calibration kit includes three different buffer solutions,with pH 4.0, pH 7.0 and pH 9.0. Each kit includes 5 x 18 ml of each buffer solution.
Application
Directions for use
Use the buffers at 20°C. Discard used buffers daily.
Tip! Use the cover as a tube holder. Lift off the cover from the boxand place the cover on the table. Place one test tube of each type inthe holes in the cover.
Shipping and storage
The product is shipped at room temperature. Store the product atroom temperature, 18-25°C. Shelf life is one year.