Freeze-drying
Medicago has long experience of freeze drying and handling of lyophilized biomolecules. We sell our own freeze-dried products, and we also undertake contract manufacturing of freeze-drying. We offer the entire chain of freeze drying from the development of a formulation, development of freeze-drying applications, performance of pilot scale, and carry-out of full-scale production.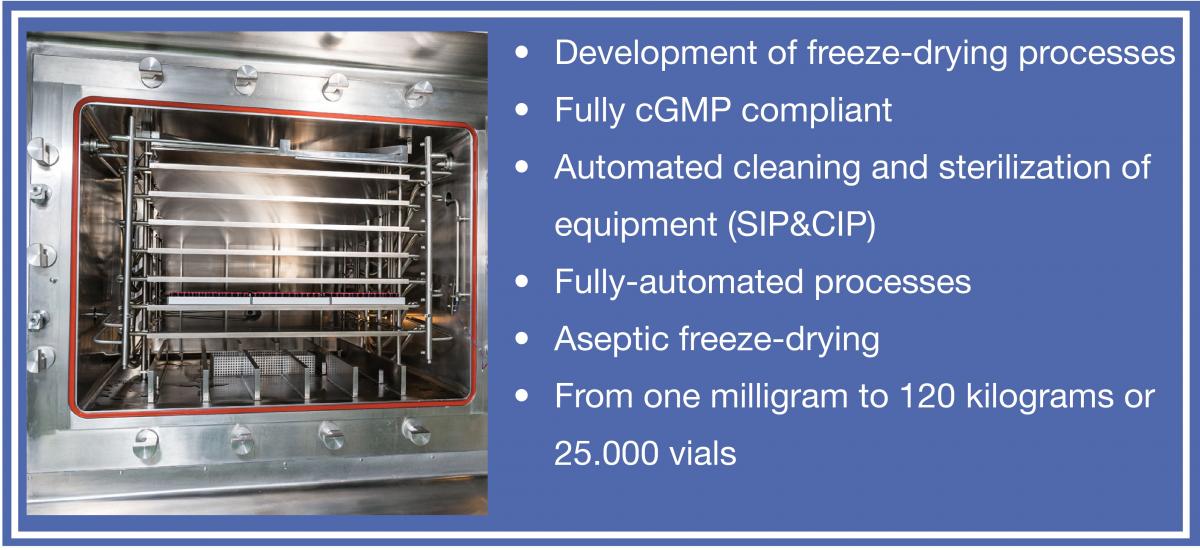 Medicago's contract freeze-drying capability is one of the largest in Northern Europe.
We have the capacity to satisfy industrial customer requests for both bulk and vial freeze-drying from pilot to production scale. Furthermore, we offer aseptic-filling freeze-drying that meets most customer needs in this area.
Freeze-drying smaller scale
Medicago has several freeze dryers in the scale up to 3500 vials or 30 kg liquid that we use to run pilot scale or small production batches in. These freeze dryers are available in various purity zones and we can therefore meet the purity requirements of those most in demand.
Freeze drying larger scale
Medicago has a larger freeze dryer which runs cGMP controlled processes of up to 120 kg liquid. This is equipped with automated cleaning with WFI water (CIP) and sterilization with clean steam (SIP). We have aseptic filling adjacent to the freeze dryer and full load performance takes place in the LAF area.
Freezedrying Microscope
We have our own production of several different freeze-dried biomolecules and proteins and, therefore, hold broad knowledge of various freeze-drying formulations. A formulation is characterized by producing critical temperatures in a freeze-drying microscope. The respective formula must be adapted so that the stability and activity of the product is maintained and guaranteed even after freeze-drying.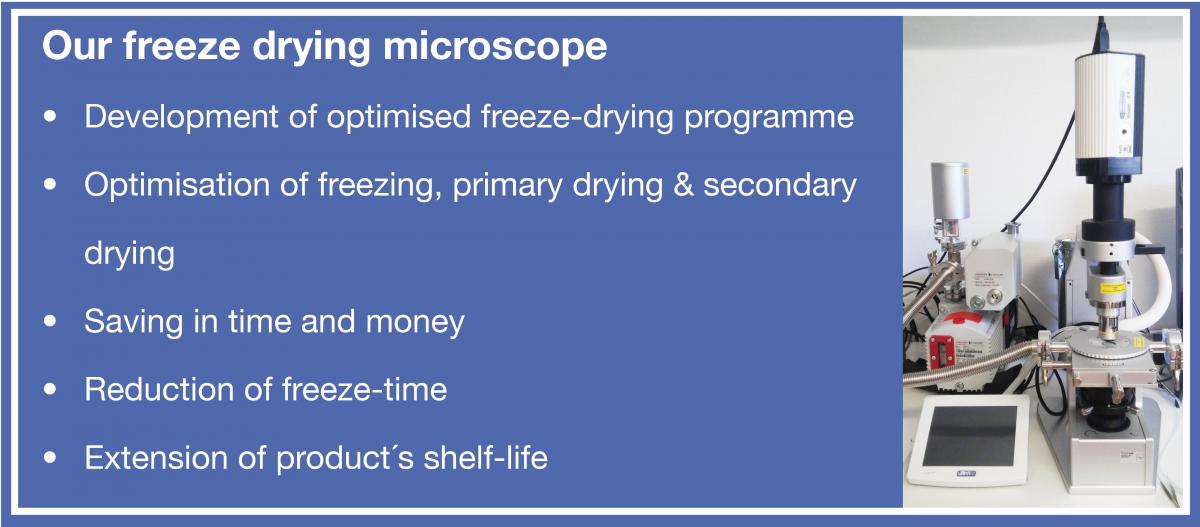 By optimising freezing, primary drying, and secondary drying it is possible to reduce freeze time and extend the shelf-life of the product. Using a freeze-drying microscope makes it possible to develop such a programme in a short time. It can save a lot of time and money by optimizing the programme. The programme is unique to the respective product and formulation.