EDTA Buffer pH 8.0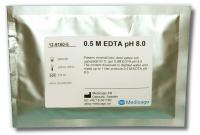 Features

Chelating agent
Prevents DNA/RNA degradation
Pre-set pH
Exactly pre-weighed in pouches
Product description
The EDTA (ethylene-diamine-tetraacetic acid) molecule is a chelating agent widely used in molecular biology to sequester divalent and trivalent metal ions such as calcium and magnesium. This ability prevents DNA and RNA degradation as metal-dependent enzymes acting as nucleases becomes deactivated. A fully deprotonated EDTA molecule will bind directly to the metal ion making the buffer suitable for adding to stored blood as an anti-coagulant to bind Ca2+ ions. Furthermore, EDTA is useful for cell culture procedures as it prevents clumping of cells in liquid suspension and detaches adherent cells when passaging.
Medicago's EDTA buffer is supplied in two sizes with pouches giving 500 ml or 1000 ml of 0.50 M EDTA buffer with pH 8.0 at 25°C when the contents of one pouch is dissolved in deionized water.
Applications
Added to stored blood as an anticoagulant
Inhibits metal-dependent enymatic reactions
Prevents cell-to-cell joining of cadherins
Used in electrophoresis buffers TAE and TBE
Component in TE buffers for DNA and RNA applications
Cell culture procedures
Directions for use
Empty one pouch of the EDTA buffer in a laboratory flask or beaker placed on a magnetic stirrer. Add 300 ml of deionized water and stir the solution for a few minutes. Adjust the volume up to 500 ml or 1000 ml, stir until full dissolution and the buffer solution is ready to use.
Shipping and storage
EDTA buffer is shipped at room temperature. Store the pouches in a dry place at room temperature. Shelf life is three years after production date.
Specifications
Chemicals: Analytical grade
Format: Exactly pre-weighed powder mix
Concentration: 0.50 M EDTA
Volume: 500 ml and 1000 ml
pH: 8.0 ± 0.05 at 25°C