SSPE (PBS-EDTA) Buffer pH 7.4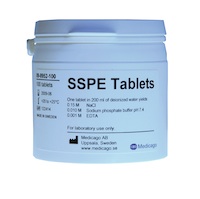 Features
Formulated from analytical grade chemicals
Exactly pre-weighed tablets
Time-saving
Dissolve and go for greater convenience
Ideal for standardizing laboratory work
Product description
Medicago's SSPE buffer is specially formulated for hybridization in Northern and Southern blotting and for wash steps in microarray techniques. The buffer can be used in various applications within molecular biology such as immunocyto-chemistry and cell culture procedures. It is suitable as wash buffer for some cell cultures and for resuspending cells for FACS (fluorescence-activated cell sorter) techniques, in order to attain good cell sorting.
SSPE buffer tablets are exactly pre-weighed and supplied in a pack size of 100 tablets, each tablet giving 200 ml of 0.15 M sodium chloride, 0.001 M EDTA, 0.010 M sodium phosphate buffer with pH 7.4 at 25°C when dissovled in deionized or nulease free water.
Applications
Nucleic acid hybridization and probe pre-hybrdization
Wash buffer for microarrays
Immunocytochemistry
Cell culture procedures
FACS
Directions for use
Deposit one tablet in a laboratory flask or beaker placed on a magnetic stirrer. Add 100 ml of deionized water and stir the solution for a few minutes. Adjust the volume up to 200 ml, stir until full dissolution and the buffer is ready to use.
Shipping and storage
SSPE buffer is shipped at room temperature. Store the tablets in a dry place at room temeprature. Shelf life is three years after production date.
Specifications
Chemicals: Analytical grade
Format: Exactly pre-weighed tablets
Composition: 0.15 M NaCl, 0.001 M EDTA, 0.010 M Na PO43-
Volume: 200 ml
pH: 7.4 ± 0.1 at 25°C