Excellence in bio-reagents development and manufacturing
Medicago is a developer and primary manufacturer of a wide range of bio-reagents and ready-to-use kits. We can accommodate requests from microliters to liters and from milligrams to kilograms. We can synthesise and manufacture special batches with unique specifications, blends and premixes to your requirements in any format or formulation. Private labelling, OEM and product/kit packaging arrangements are also possible. Our facilities are supplied with cGMP-validated WFI and PW water plus Clean Steam. Clean room areas are qualified according to cGMP and ISO standards.
Medicago's product range includes:
Pre-made Smart Buffers and Reagents

As a world-leading producer of biological and chemical buffers in tablets and pre-mixed powders, Medicago is sure to comply with any request you may have. And if you don't find what you are looking for, we will develop and manufacture your buffer exactly to your specifications.
Manufacturing is done in a controlled clean environment using GMP procedures. Pre-mixed reagents are exactly weighed according to the specifications of the tablets and powders. Processes are largely automated to avoid operator intervention and contact with products. Tablets are packed in clean containers or in blister packs and powders in sealed aluminium laminate foil pouches.
Manufacture in tablets, powder or solution
Packaged in bottles, blister packs or pouches
Customized to any blend or formulation
Any volume or weight
Provided as OEM buffers for inclusion in any of your own kits
Lectins and Bioactive Proteins
Medicago is one of the world's few primary manufactures of extremely pure lectins. Our state-of-the-art purification equipment and extensive expertise in this area make us a unique partner for customized solutions.
Custom lectins and conjugates
Any scale: milligrams to kilograms
Lyophilised or liquid solutions
Special and reserved batches
Private label arrangements
Saponins
Over the years, Medicago has developed expertise in manufacturing bulk and custom-made saponins. These compounds are amphipathic glycosides used commercially in dietary supplements and nutriceuticals. Saponins are also used as adjuvants in vaccine preparations.
Bulk and custom saponins
Pharmaceutical and Diagnostic grades
Any scale: milligrams to kilograms
Special and reserved batches
Private label arrangements
Immuno Reagents
Medicago develops and manufactures monoclonal and polyclonal antibodies, as well as antigens from viruses, bacteria and parasites. During the last decade, this has represented a steadily expanding area of expertise. We have also developed special skills in producing monoclonal antibodies against very small molecules such as common explosive and narcotic substances, for example.
Monoclonal and polyclonal antibodies
Highly purified antigens
Synthesis of hapten conjugates
Manufacturing under aseptic conditions
Development of unique hybridoma clones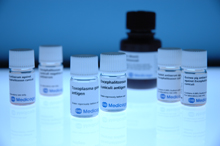 Kit development, construction and assembly
Medicago possesses long and unique experience in the development, construction and assembly of diagnostic, biochemical and chemical kits according to customer specifications on a sub-contracting basis.
We turn your ideas into finished products ready to be marketed
We do as much or as little as you need in the design and manufacture of your kit
We use modern design packaging with an appealing and attractive appearance for end-users
We can organize the warehousing and distribution of your product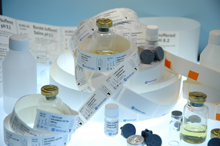 Diagnostic Kits
In addition to developing and producing our own kits for in vitro diagnostic use based on ELISA and monoclonal antibody techniques, we also undertake production of diagnostic kits.
• ELISA kits • In vitro diagnostics
• Rapid tests • Veterinary kits
Chemical and Biochemical Kits

• Reagent kits • Sterile kits
• Calibration kits • Maintenance kits
• Spare part kits • Analytical kits