Carbonate bi-carbonate Coating Buffer pH 9.6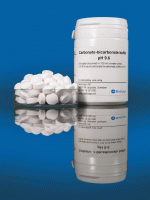 Features
Formulated from analytical grade reagents
Pre-set pH
Exactly pre-weighed tablets
Supplied with or without sodium azide as preservative
Dissolve and use in minutes
Product description
Carbonate bi-carbonate buffer is used as coating buffer on
plates or tubes. Medicago's Carbonate bi-carbonate buffer is specifically developed for protein-coating procedures on
mictrotiter plates and plastic tubes for RIA and EIA techniques. The buffer is supplied in two formulations, one of which contains 0.05 % sodium azide as preservative.
The buffer is supplied as exactly pre-weighed tablets giving 100 ml of 0.05 M sodium carbonate-bicarbonate buffer with pH 9.6 at 25 °C when dissolved in deionized water.
Applications
Protein coating on microtiter plates and plastic tubes.
Directions for use
Deposit one tablet in a laboratory flask or beaker placed on a magnetic stirrer. Add 50 ml of deionized water and stir the solution for a few minutes. Adjust the water up to 100 ml, stir until full dissolution and the buffer is ready to use.
Shipping and storage
Carbonate-bicarbonate buffer is shipped at room temperature. Store tablets in a dry place at room temperature. Shelf life is three years after production date.
Specifications
Chemicals: Analytical grade
Format: Exactly pre-weighed tablets
Concentration: 0.050 M sodium carbonate-bicarbonate buffer, pH 9.6 at 25°C
Volume: 100 ml
pH: 9.6 ± 0.05 at 25°C