p-Nitrophenyl Phosphate Substrate (pNPP)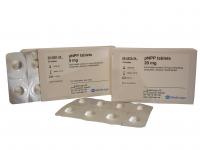 Features
Formulated from analytical grade reagents
Specifically developed for immunoassays
Chromogenic substrate
Reproducibility from lot to lot
Exactly pre-weighed tablets
Product description
Medicago's pNPP substrate is specifically developed for immunoassay procedures and it is ideal for phosphate-based ELISA methods. The substrate is also used as a chromogenic non-specific substrate in alkaline and acid phosphatase assays. Its soluble end-product is yellow and can be spectrophotometrically read at 405 to 410 nm. The reaction may be stopped with 3 M NaOH.
The pNPP substrate is supplied as pre-weighed tablets in bottles or in convenient blister packs, each tablet containing 5 mg or 20 mg of substrate.
Applications
Immunoassays
Chromogenic substrate for phosphatase assays
Histochemistry procedures
Recommended for ELISA procedures
Directions for use
Deposit one tablet of the pNPP substrate in a laboratory flask or beaker placed on a magnetic stirrer. Add deionized water in the appropriate amount to reach the required concentration for the assay. Stir until full dissolution and the substrate solution is ready to use.
Shipping and storage
The pNPP substrate is shipped at room temperature. Store the tablets in a dark place below -18°C. Shelf life is three years after production date.
Specifications
Chemicals: Analytical grade
Format: Exactly pre-weighed tablets
Weight: 5 mg and 20 mg