Protein L Ligand Leakage ELISA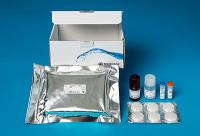 Features
Complete ready to use kit.
Detection and quantification of Protein L in Immunoglobulin (Ig) or Ig-fragment containing solutions.
Includes 12 strips (96 wells), sufficient for 48 test.
Product description
This ELISA-kit has been designed to detect and quantify Protein L in Immunoglobulin (Ig) or Ig-fragment containing solutions. It is a sandwich ELISA with microtiter strips coated with an affinity purified anti-Protein L IgY-antibody.
In this assay, the samples are boiled to separate the Ig/Ig-fragments from the Protein L in the solution, centrifuged, and incubated in the strip wells.
The bound Protein L is then detected by adding a horseradish peroxidase (HRP)-conjugated anti-Protein L IgY antibody.
Substrate is added to induce a color change which is proportional to the amount of bound Protein L from the sample. The color change is quantified spectrophotometrically at 450 nm by using a plate reader.
The amount of protein L in the sample is determined by using a standard curve prepared in a reference sample. The reference sample should have the same concentration of Ig or Ig-fragments and preferably the same buffer composition as the elution samples from the Protein L affinity chromatography medium. However, it should be prepared using another purification strategy, e.g. ion exchange chromatography. Once a reference sample is created it can be aliquoted and used for several different protein L ELISA assays.
Applications
Determination of leakage levels of protein L in protein L-medium purification of intact immunoglobulin or immunoglobulin fragments (Ig or Ig fragments). Some fab samples may require optimization. Currently there is no protocol available for sdab molecules.
Directions for use
The product is a ready to use kit, instructions for use is provided. Safety precautions like lab coat, gloves and goggles should be used.
Shipping and storage
The product is shipped cooled (+4ºC) except the protein L reference which is shipped frozen
(-20ºC). On arrival store components cooled (+4ºC) except the protein L reference which should be stored at -20/-80ºC:
Strips (96 wells), store unused strips in sealed bag at +4ºC.
HRP-conjugated anti Protein L pAb and EC-Blue Enhanced TMB-substrate, store protected from light.
Protein L reference,store in working aliquots to avoid repeated freezing/thawing.
Specifications
The Protein L Ligand Leakage ELISA kit comes in two versions – the standard kit (10-0027) and the XL kit (10-0028). The XL kit contains five vials of Protein L reference instead of one, and may be used for process adaptation purposes.

Components:
12 strips (96 wells) Anti Protein L coated
100x solution HRP-conjugated anti Protein L pAb
Protein L reference
EC-Blue Enhanced TMB-substrate
Stop Solution
PBS-Tween tablets