Ringer Solution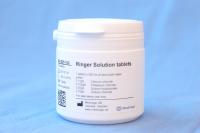 Features
Isotonic, non-toxic buffer
Guaranteed reproducibility
Ready to use in minutes
Save space in stock rooms
Product description
Ringer solution maintains the osmotic balance for bacteria. It is used for the preparation of suspension of samples and other biological matter in dilution techniques for enumeration. It is also used in the microbial control of apparatus by the rinse and swab method.Medicago's Ringer solution is supplied as pre-weighed tablets in bottles. One tablet yields 500 ml of buffer solution in the composition:1 x solution; 2.25 g/L Sodium chloride, 0.105 g/L Potassium chloride, 0.12 g/L Calcium chloride and, 0.05 g/L Sodium bicarbonate.
Applications
Isotonic sample diluent
Rinse solution for microbial control, the rinse and swab method
Suspension of solid food and other specimens
Diluent for pure bacteria colonies
Directions for use
Dissolve one tablet in 500 ml of deionized water. Stir untilfull dissolution and sterilize by autoclaving at 121°C for 15 minutes if needed.
Shipping and storage
Ringer solution is shipped at room temperature. Store the tablets in a dry place at room temperature. Shelf life is three years.
Tips and hints
If the tablet is not properly dissolved, make sure:- the water temperature is 22-25°C- the buffer is properly stirred- high quality deionized water is used. Sterilization can be performed by filtration or autoclaving. Filter the buffer solution into a sterile flask through a 0.22 μm filter.