Borsyre tabletter 1 g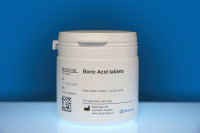 Benefits
Formulated from analytical grade reagents
Exactly pre-weighed in tablet form
Dissolve and use in minutes
Eliminates dust and exposure
Guaranteed reproducibility
Product description
Boric acid is very versatile and can be used in general laboratory work as for example a mild disinfection agent and in the medical field as a preservative and bactericide. Medicago's boric acid is very convenient to use as provided in tablet form which eliminates dust and exposure in the preparation process. It can also be used as a buffer substance. Add one tablet for every gram boric acid needed.
Applications
Directions for use
Dissolve one tablet in deionized water. Stir until full dissolution and sterilize by autoclaving at 121°C for 15 minutes if needed. Filter the solution into a sterile flask through a 0.22 µm filter.
Shipping and storage
Boric acid is shipped and stored at room temperature. The tablets are stable for five years if stored in a dry place.
Tips and hints
If the tablet is not properly dissolved, make sure:
- the water temperature is 22-25°C
- the solution is properly stirred
- high quality deionized water is used